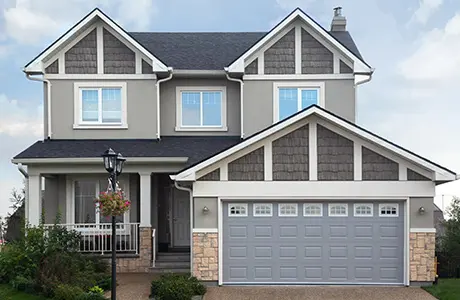 Recommended prep varies from home to home but can include scraping, caulking, and priming. We usually recommend pressure washing in order to clean the home exterior, and this service can be invaluable annually in between paint jobs in order to keep your home looking great. It can remove:
• Stains and grease
• Mud and dirt
• Mould and mildew
• Nests, webs, and droppings
Refresh Your Toronto Home with Exterior Painting
Are you looking to revamp your home's exterior paint and raise the value of your property in just one step? With the help of our professionals, you can have a hands-off approach. We offer paint services to many exterior surface. Regardless if you have a small single-story residence or a large house with many levels. We'll be there to make your home what you've always wanted it to be.
Unsure which colour to paint your home? We offer free colour consultations, so call us at or contact us online to schedule with a colour consultant.
The Many Aspects of a House
If you need a particular aspect of your home painted due to a repair, renovation, or addition, the painting contractors we work with can accommodate those needs. Many of our clients hire us to paint their entire homes so that the house is uniform and fully protected. In addition to siding, this can include:
• Latticework
• Railings and porches
• Doors and door frames
• Facades and corner boards
• Shutters and window frames
Satellite Structures Too
Our customers often want to have satellite structures on the property painted as well. Such work can complement the home or provide much-needed contrast. The painting contractors we work with prep and finish a wide range of constructions, including:
• Sheds
• Mailboxes
• Well houses
• Detached garages
How Long Has It Been Since It's Been Painted?
Typically, houses need to be repainted every 5 to 10 years. This ultimately depends on the climate, your exposure to the sun, your home's siding, and the quality of the existing paint job.
Stucco, for instance, is a pretty common siding in Toronto and is one of those sidings that falls in the 5 to 10-year frequency bracket.