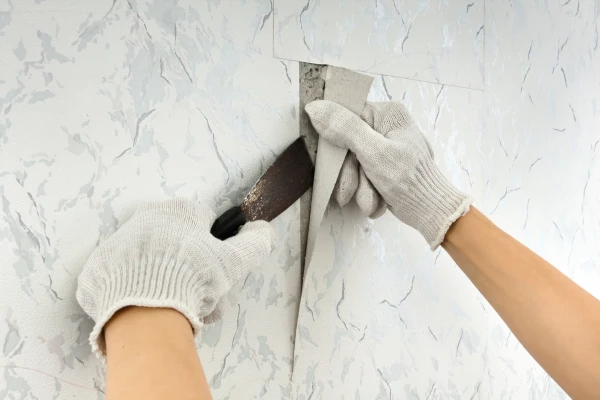 The Question of Whether to Paint Over Wallpaper Has No Clear Answers
Painting one's home can be one of the easiest remodeling decisions you'll ever make. A new coat of paint can revitalize the entire ambiance and feel of a space – increasing the aesthetic appeal and even boosting the real estate value. However, the hassle of removing wallpaper is one of the primary reasons many homeowners remain resistant to painting their homes.
If you view this step as a significant obstacle, you've come to the right place! At Five Star Painting of N Kansas City, MO, we are well aware of the upsides and downsides to this dilemma. We've witnessed both approaches in action. As a result, we have a firsthand understanding of the pros and cons of painting over wallpaper. We can even offer step-by-step tips on how to best proceed if you decide painting over wallpaper is best for you.
The Downsides to Painting Over Wallpaper
First, let's discuss why professional painting services often oppose painting over wallpaper. For the most part, painting over wallpaper results in an inferior long-term product. Failing to remove wallpaper will likely lead to a rougher, messy surface. The paint will end up uneven due to frayed edges, bubbles, rips, dust, tears, and other blemishes. You will also have no choice but to paint over seams, which will inevitably remain visible – no matter how many coats you apply.
Another thing to consider is the wallpaper's darkness and saturation. Painting over dark wallpaper runs the risk of the underlying color or pattern gradually reemerging over time. Furthermore, painting over textured wallpaper can be especially tricky. It is nearly impossible to paint over textured wallpaper without the underlying pattern emerging through the coat. That said, many homeowners don't mind the texture. Some even prefer the textured style over a smooth surface.
In a nutshell, it's easy to mess up a paint job if you don't thoroughly prep every square inch of your wallpaper. In some circumstances, the amount of time spent smoothing out air bubbles, patching tears with wall spackle, and removing dust off the wallpaper with wall dough will equal or exceed the amount of time it takes to strip the wallpaper altogether. As a result, we highly recommend against painting over wallpaper if you're looking for results that stand the test of time.
The Upsides of Painting Over Wallpaper
As we just noted, it's often worth taking the extra effort to strip your wallpaper before painting. That said, stripping wallpaper can create setbacks. Sometimes, wallpaper will provide a smoother surface than what lies behind it. In other words, removing wallpaper might reveal damaged drywall, flaky plaster, giant nail holes, or another layer of wallpaper. It is also possible to mistakenly gouge the walls if your wallpaper is old, stubborn, and refuses to come off.
The other obvious benefit to painting over wallpaper is the possibility you'll save yourself time, hassle, supplies, and stress. For some homeowners, removing wallpaper is a task they'd rather skip when embarking on a DIY paint project. Sure, the surface may be far from ideal for holding paint, but the speed and relative success of enjoying a new color affordably and quickly may be compelling enough to choose this path.
How to Paint Over Wallpaper
As noted, most professionals will recommend that you try to avoid painting over wallpaper at all costs. If the task of stripping your wallpaper seems too daunting to manage, don't panic! Five Star Painting of N Kansas City, MO is ready to rush to the rescue! Our painting specialists are second to none! We will strip your wallpaper, remove blemishes, and apply a sparkling new coat of paint.
Upon request, we can paint your walls without first removing the wallpaper. For premium results, it is essential to follow certain rules when painting over wallpaper. First and foremost, the wallpaper will need to be prepped and primed. All dirt, grease, mold, mildew, and residue will need to be eliminated from the surface.
Effectively Cleaning the Wallpaper Is Essential
One of the more challenging factors of cleaning wallpaper is the fact that water should be minimally used. Moisture can loosen the adhesive and cause the edges to curl. Depending on the situation, a pro might use trisodium phosphate powder, household bleach, and a small amount of water to create a cleaning mixture that will hopefully do the job without causing new issues.
It is possible to uncurl the edges by applying a seam repair adhesive. There are many adhesives you can squeeze from small tubes into the crevices where wallpaper curls up. It is pivotal to carefully wipe off excess adhesive with a damp cloth to avoid unwanted clumps. A significant downside of applying adhesive to curled edges is that it will not be easily removable later if you decide to remove the wallpaper.
Use Primer & Prep Properly to Ensure Your Paint Sticks
An effective, high-quality primer is essential for successfully painting over wallpaper. A primer will help the paint stick to the surface smoothly and evenly. You'll also need the primer to create a barrier between the wallpaper and latex paint. Without this barrier, the paper might potentially lose its grip and peel off the wall.
Another solution is to use oil-based paint for your topcoat. However, this option has its own disadvantages, including the need to use mineral spirits (paint thinner) when cleaning up. Finally, it is sometimes wise to apply paintable caulk to the perimeter – where the wallpaper meets the ceiling. Caulking will help smooth the edges and create a seamless aesthetic.
Make the Decision that Works Best for You
Ultimately, the question of whether to paint over wallpaper or not is entirely up to you. Hopefully, we've helped you come to a clearer understanding of the upsides and downsides at stake behind each approach. Whatever you choose, Five Star Painting of N Kansas City, MO is always just a call away. Our professional painters rely on years of experience, state-of-the-art tools, and veteran techniques to produce industry-leading results – every single time.
Ready to remove your wallpaper and repaint a room? Looking for professional assistance? Don't hesitate to give us a call today!