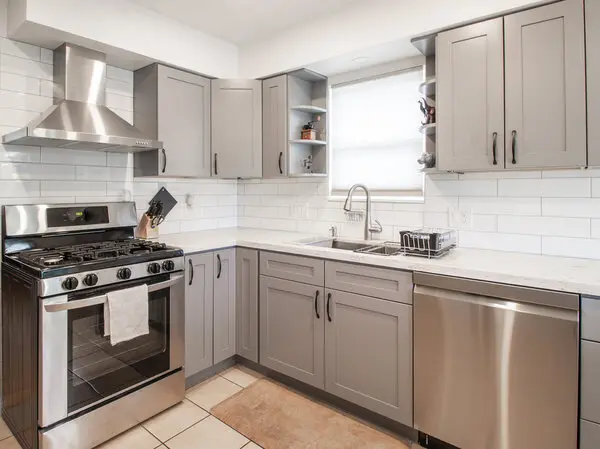 We specialize in painting traditional cabinets at Five Star Painting of N Kansas City, MO. But, we can also help with additional cabinetry and shelving units in your home. Some of the projects we are happy to assist with include:
Kitchen Cabinet Painting
Our kitchen cabinet painting pros in Kansas City can help save you money! Remodeling cabinets are expensive. Repainting cabinets is a fraction of what new cabinets cost.
Book Shelves and Nook Painting
Let us help revitalize built-in bookshelves or other nooks you have in the walls of your home.
Laundry Shelf Painting
Update your laundry room shelves and cabinets! New paint can better reflect the aesthetic and color scheme you are already using in the space.
Garage Cabinets and Shelf Painting
Garage cabinet and shelf painting can give you a more modern look! Some new pain can better reflect your preferred interior colors.
Kitchen Island Painting
Besides cabinets, we can also assist with updating kitchen islands.
Bathroom Vanity Painting
Have some bathroom unattractive bathroom vanities? Some paint can reflect your preferred color schemes and revitalize an outdated look.
Looking for kitchen cabinet painters near you? Call or schedule your free estimate online today!
Cabinet Painting | Frequently Asked Questions
Is it possible to have our cabinets painted in the winter?
Absolutely! In fact, winter can be a perfect time to get your cabinets painted. Cabinet painting isn't subject to premature failure due to harsh weather.
Do you need multiple paint projects completed around your home? Getting your cabinets painted in the winter leaves you with plenty of time in summer for your exteriors.
What are the benefits of cabinet painting?
First, house painting is one of the most cost-effective and easiest ways to improve your home. This applies to cabinet painting! If you're moving, investing in professional cabinet painting can help sell your home.
Some buyers bought their first home primarily based on the large, modern-looking kitchen. The cabinets had been painted a neutral grey which helped bring the kitchen to life. The cabinets were ancient, but some new paint made them look as good as new. Needless to say, the cabinet painting job made a great impression on these buyers!
Ready to get started with cabinet painting North Kansas City? Call us or reach out online to book your free estimate. We warranty our services!