How to Hang Decorations Without Damaging Walls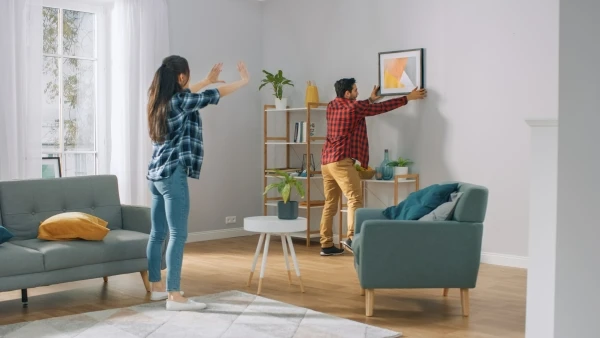 Whether you rent or own your home, there are plenty of reasons you'd want to display your wall décor without leaving behind nail marks or other damage. Luckily, there are plenty of ways to put up your decorations without worrying about what will happen when you take them down.
Here are five explanations of how to stick things to a wall without damaging paint:
Use Decals Instead of Posters: Whether it's a band, movie, sports team, cartoon, or hobby, there's probably a poster for it.
Several poster manufacturers now produce poster-sized decals that serve the same function as a poster but with a semi-permanent adhesive, eliminating the need to hang them with tacks or nails. You can remove these decals from the wall later without damaging the surface.
One major downside is that they're designed for single use, so once you take them off a wall once, you won't be able to move them somewhere else.
Related Topic: Decorate Your Dining Room: decorating ideas to give your dining room new life
Use Hooks or Velcro with Removable Adhesive: These have become many people's go-to options. The product is a simple hook or Velcro-style strip with a special adhesive strip. This adhesive works by maintaining surface area with your wall. When you're ready to remove the product without damaging your paint or walls, you can simply stretch out the adhesive strip, reduce that surface area, and pull it off cleanly.
<>These solutions can be used just about anywhere, and some can even hold several pounds of weight, giving you the ability to hang framed art pieces or even planters.
Use Magnetic Paint: This might sound farfetched, but there are actually a few brands of paint that make any surface magnetic. Then you can use magnets to "pin" posters or photos in place, or use magnetic hooks to hold larger wall art. If you're a renter and aren't permitted to paint your walls, this option is off the table.
Install No-Damage Wall Shelves: Because of technological advances in adhesives, there are full shelves on the market that don't require nails. Although these shelves don't have the weight capacity of stud-mounted shelves, you'll still be able to display smaller items on them to bring character to your home.
Related Topic: Interior Design Styles and The Paint Colors That Go With Them
Use Putty to Hang Pictures: This is quite possibly the best way to hang pictures without nails, as you won't have to do anything to the wall, and you won't even need frames or hooks. A longtime staple of classrooms, dorms, and apartments, putty gives you the freedom to place artwork just about anywhere on a wall.
Putty may not be the best solution for hanging framed pictures—consider using adhesive hooks or velcro-like strips for that. Or ask our friends at Mr. Handyman® to install picture rail molding!
Related Topic: Lagom Home Design for a Happier House
Accidents Might Happen. Let Us Handle Them.
Even if you're using the methods listed above to display wall décor, things can go wrong, and your paint can become chipped or damaged in the process. Whether you need one room painted, drywall repaired, or several rooms repainted to match new artwork, Five Star Painting can help. Give us a call at (888) 261-3633 or request an estimate online to get started.