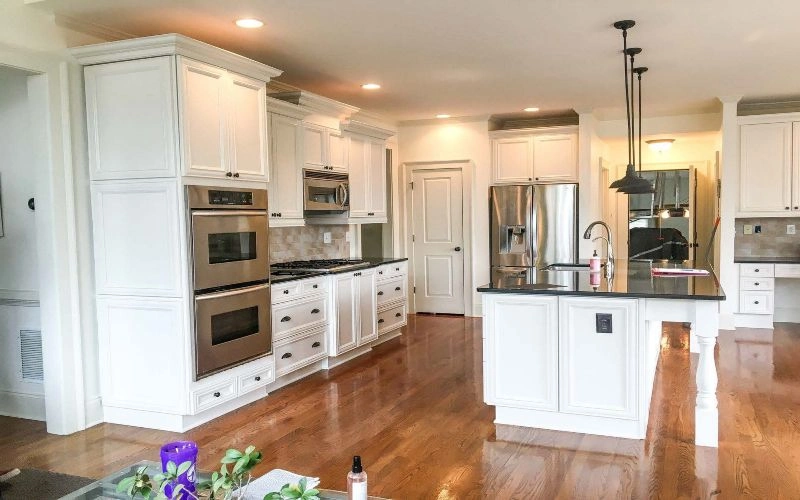 The Cabinet Painting Process
We love transforming a dull space with paint. Whether you need a facelift on your kitchen cabinets or want a new look for your bathroom cabinets, you can trust our team. Our cabinet painting projects depend on your cabinets' current condition and the project's scope. The standard cabinet painting process includes the following steps:
Removal of all hardware and doors
Sanding and preparation work for painting
Application of paint to the door
Application of paint to the mounted cabinets
Reassembling the cabinets after the paint dries
Upgrade Options for Your Kitchen or Bathroom Cabinets
Cabinets won't stay in like-new condition forever. While you have many options to upgrade your cabinets, we always recommend choosing high-quality options that last. Some of the many options you have for updated cabinetry include the following:
Cabinet replacement 
Particle board cabinets
Cabinet refacing
Cabinet painting 
Transform Your Space With Cabinet Painting
Cabinet painting can bring any space from drab to fab. We know some kitchens and bathrooms have had the same cabinet looks for decades. We want to help you upgrade your space to reflect your taste. We go beyond painting the cabinets in your kitchen or bathroom areas. Some of the other popular areas to apply cabinet painting services include the following:
Board and batten
Cabinet drawers
Vanities
Closet storage
Counter islands
Built-in shelving
Replacing vs. Painting Cabinets
Complete cabinet replacement is typically the most expensive option for homeowners and is often unnecessary. Cabinets can take up to more than 30 percent of a kitchen remodel budget. We never recommend replacing your wood if it is in good condition. Painting cabinets is effective and aesthetically pleasing. Even simple painting projects can make a significant impact on a room. A fresh coat of paint on your cabinets helps boost the look of a room.
Helping You Choose Cabinet Painting Colors
Our professional painters can help you choose the best paint color for your space. We know the best ways to complement the style of your home. We use high-quality paints in all colors. We are always here to recommend the paint colors that go best in each room of your home.
Is Professional Cabinet Painting Worth It?
Cabinet painting is a quick and beautiful way to enhance the look of your cabinets. You get long-lasting cabinets without the need to purchase new ones. Cabinet painting provides a stunning way to transform the look of a room without a complete makeover.
Why Choose Five Star Painting of Jeffersonville?
Five Star Painting of Jeffersonville will help transform your cabinets with cabinet painting services. Our team of professional painters works with you to create a gorgeous space with paint. We can come to your home to offer an estimate on our painting services. We won't ever throw in hidden fees. We are highly trained in the best ways to apply paint. We never leave behind a mess and help you understand our process. We use Sherwin-Williams and Behr painting products to ensure a durable and stunning look.
Contact Us for Cabinet Painting Services
Five Star Painting of Jeffersonville provides comprehensive painting services in New Albany, Floyds Knobs, Sellersburg, Greenville, and Jeffersonville. Our cabinet painting services give your kitchens and bathrooms a facelift without needing a complete restoration. You'll love the new look and feel of freshly painted cabinets. Our team is always here to answer questions if you have any concerns about painting your cabinets. Contact us today to request an estimate on our cabinet painting services.