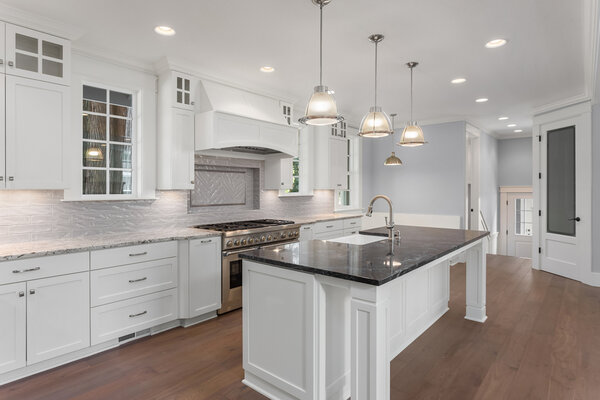 Refinishing cabinets can brighten a room as well. Kitchen cabinet painting is a great alternative to replacing. This is primarily because refinishing and painting cabinets is less expensive than replacing them, so you shouldn't replace them unless it's truly necessary.
At Five Star Painting of NE Grand Rapids, we use quality paints and equipment to refinish and paint your cabinets to a high standard. Our team of experts are here to help revitalize your home with a fresh coat of paint. Looking to save money while giving your home a fresh, new look? Cabinet painting is the perfect solution!
Want to get started with cabinet painting? Reach out to our team by calling for more details on how to get started!
What Types of Cabinets Do We Refinish & Paint?
Five Star Painting of NE Grand Rapids works with experienced painting contractors who can refinish and paint many types of cabinets, including but not limited to:
Kitchens
Home offices
Bathrooms
Closets
Garages
Call us for more details on what cabinets we can paint.
We Are Committed to Excellent Painting Services
Quality workmanship is one of the values here at Five Star Painting of NE Grand Rapids. To back our commitment to excellence, we use Behr® and Sherwin-William® paints plus reliable equipment. The painting contractors we match to the job are experienced with cabinet refinishing.
They know how to give them a professional look. Our painting contractors follow proper painting procedures, such as scrubbing away the dirt and grime before painting.
Our Customers Come First at Five Star Painting
Five Star Painting is the right company for homeowners who consider quality to be one of the most important aspects to look for in a product or service. We dedicate ourselves to excellence, striving to please customers with five-star painting services.
It makes us happy to see our customers delighted with their renewed cabinets. All of the hard work we put into the process is worth it. Want to hear what clients are saying about our services? Read our Customer Testimonials to learn more!
Schedule an appointment for a free estimate to determine the cost to refinish and paint your cabinets by calling us or sending us an online message.
Frequently Asked Cabinet Painting Questions
How should I choose the best color for my cabinets?
It can start to get quite overwhelming thinking about all the various colors you can use to liven up your rooms. We'd recommend starting with the mood, look, & feel you like!
Want more information on choosing the right color to compliment your rooms? Contact Five Star Painting of NE Grand Rapids today!
Should I hire professional painters to paint my house?
Yes, hiring professional painters will ensure your house a high-quality paint job. Cabinet painting may seem like an easy DIY project, however, to have a quality job that will last and serve its purpose, requires the professional's touch.
Our professional cabinet painters in Grand Rapids know which paints are needed for your cabinets. We will ensure all of your cabinet surfaces are thoroughly cleaned and prepped. After this, we ensure we utilize the correct paint application techniques your cabinets need for a beautiful and effective paint job.
Our team is here to help with any cabinet painting services you need! Contact us by calling for more details on our services!