Have you been thinking about replacing your old cabinets? If you have, you can stop. Are you about to have your run-down cabinets ripped out? Save some money by having them painted instead. Whether you have purchased a home with older cabinets or you just want to upgrade the cabinets you have. It all starts with a fresh coat of paint. This can do wonders, even changing the complete feel of a room.
Get a free cabinet project estimate or schedule an appointment.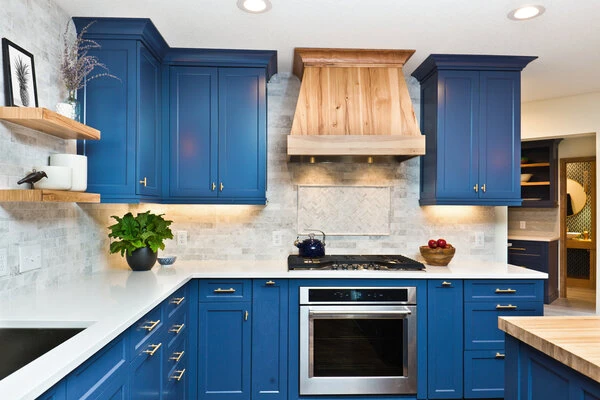 Freshen Up the Room with Cabinet Painting
Cabinets make a big difference in a kitchen or bathroom. That's why a paint job makes such a significant revamp in these spaces. The cost vs. impact is significant, especially when you consider other home renovation projects or remodeling efforts.
Looking to freshen up your room with cabinet painting? Contact us if you're in Castle Rock or the surrounding areas.
Let Five Star Painting of Castle Rock Help
We can refinish your:
Kitchen cabinets and island
Built-in shelving
Base cabinets
Wall cabinets
Framed cabinets
And more!
Expert Cabinet Painting From Five Star Painting
We'll come out and take a look at your cabinets. We can then provide you with a detailed summary of the work that we'll do. All along with a free estimate so you know just what to expect. We believe in precision quality. This is why we use industry-leading paints like Sherwin-Williams® and Benjamin Moore®.
What kind of paint should you use on cabinets?
Deciding what type of paint to use for your cabinets should stem from what your cabinets are made of. Depending on the material of your cabinets, you will want to pick a paint type that works well with the surface of your cabinets.
Consider these paint types for these reasons:
Oil-Based Paints: These paint types are good at covering wood surfaces and are durable. But they are subject to yellowing in low light and take up to 16 hours to dry.
Latex-Based Paints: These paint types are quick to dry and good on painted surfaces. But some formulas aren't very durable and they don't go as smoothly onto wood like oil-based paints.
Trust in Five Star Painting of Castle Rock
Our contractors have years of experience with refinishing and repainting cabinets. We know what will work best in your home. One of the most important parts of the process is to properly prepare the cabinets and the work area before the work begins. Once the prep work is done, the painters can get started on the project. There's no need to worry, as they'll take every precaution when working and clean up the premises when done.
Professional Cabinet Painters in Castle Rock
Whether we're working in the kitchen, bathroom, or any other room, we want to give you the look you're going for. Painting cabinets is about more than just optimal paint coverage. It's about setting a mood for the room and making something that once seemed old new again. No matter your goals, we are committed to helping you realize your vision.
Get a new look for your cabinets from Five Star Painting. Contact us if you're in Castle Rock or the surrounding areas.
Frequently Asked Cabinet Painting Questions
Is cabinet painting a reliable alternative to replacement?
Yes, cabinet painting is a fantastic alternative to replacing them. By having your cabinets repainted, you can save quite a considerable amount of money. At the same time, they'll look brand new. Learn more on our cabinet painting page to learn more about our cabinet services and see how we can help!
How long will painting my cabinets last?
Painted cabinets are designed to last! The time your cabinets new coat will last will primarily depend on what type of paint you decide on. With proper upkeep and maintenance, you can expect your freshly painted cabinets to last up to 8-10 years.