Kitchen remodels are normally very expensive. You can save a lot of money if you don't buy new cabinets. Instead, have your cabinets painted or refinished. You'd be surprised at how much newer and nicer cabinets look when they are sporting a new coat of paint or finish. Painting cabinets yourself can be a long and cumbersome task. Hiring a professional team of painters at Five Star Painting of Cedar Rapids saves you time and a lot of frustration.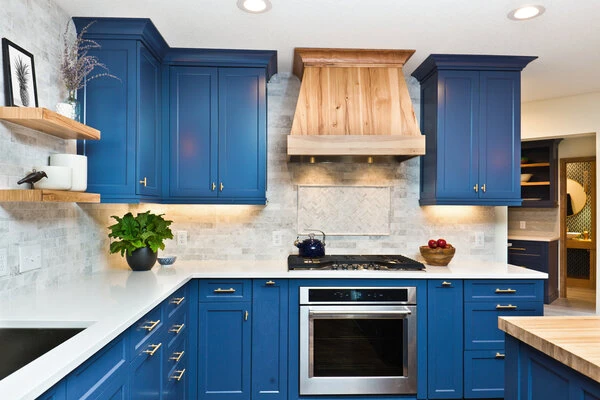 How Cabinet Painting Can Refresh Your Home
Cabinets in a kitchen or bathroom can refresh your home as a whole. That's why a paint job makes such a significant revamp in these spaces. The price for change is significant, especially when you consider other home renovation projects or remodeling efforts.
Learn how we can refresh your home through cabinet painting by calling.
Why You Want Professionals Painting Your Cabinets
DIY projects can be tempting when you are trying to cut costs. However, cabinets need more specialized knowledge and prep work than painting a wall. By hiring professionals, you can rest assured that your cabinets will look beautiful. We work with painters who do their best to protect their work area and clean up their mess. All they will leave behind is your refreshed cabinets. Five Star Painting of Cedar Rapids can also paint different kinds of materials besides wood.
Cabinets Don't Only Exist in the Kitchen
Most tend to think of redoing our kitchen cabinets before any others. Don't neglect the other cabinets in your home. Look around at the other cabinets in your home to see if they need a refresh. Some spaces that can have cabinets include:
Bathrooms
Closets
Garage
Laundry room
Home office
Schedule an appointment today to see what we can do for you by calling.
Minimize the Disruption to Your Household
The kitchen is the heart of the home, and any remodeling done in there will affect your daily life. The painters we work with in Cedar Rapids work quickly and professionally. They work to restore your kitchen or any other room back to normal as soon as possible. What if you would rip out all your old cabinets and install new ones? It would take a significant amount of time and effort. Refinishing is a cost-effective and efficient way to redo your cabinets.
Call us today so we can get started on making your dreams a reality.
Frequently Asked Painting Questions
Is cabinet painting a reliable alternative to replacement?
Yes, cabinet painting is a fantastic alternative. By having your cabinets repainted, you can save a good amount of money. At the same time, they'll look brand new. Learn more by contacting us about our cabinet services and see how we can help!
Let us help with your cabinet painting services.