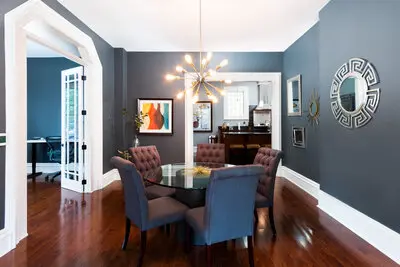 All of the painting contractors we work with are skilled and experienced craftsman who take pride in their work and care about customer satisfaction. High standards of workmanship as well as clean, safe work areas are important to us, and our confidence in our approach is what allows us to offer you a two-year warranty.
A Convenient and Stress-Free Customer Experience
Having your home painted should be exciting, not a hassle! Five Star Painting of East Oklahoma City works very hard to deliver an amazing customer service experience. That includes respecting your time and being diligent about meeting time estimates, and a project manager will always be available to you to answer any questions and discuss any concerns that you may have.
Contact us to schedule an appointment. We'll visit for an on-site consultation and provide you a written estimate at no charge.


Interior Painting | Frequently Asked Questions
Should I wash and clean my walls before I paint my home?
Interior paint can be applied over dirty walls. But, this will result in a low-quality paint job. It's smarter & more efficient to wash your walls prior to your paint job. If paint is applied over dirty walls, the paint won't stick correctly to the surface. This can cause the paint to peel much sooner than it should.
When should I have the interior of my home painted?
Fall and winter are more ideal to have the interiors of your property painted. The best seasons to have your exterior painted or repainted in Oklahoma City are usually during the summer and spring. If your property needs an interior paint job, feel free to book a free estimate by calling or by simply visiting us online.