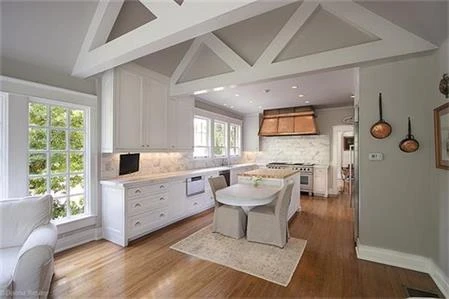 It may be the time to add a new layer of paint to the interior of your property. Here are 10 different tips to think about when you are planning to get a new coat of paint within your property. The tips described here can be used in a number of different ways on a wide variety of different rooms.
Take the mood of the room into consideration – color can have a great effect on the tone of a room and it can therefore be a good idea to select brighter colors for rooms that will be used in a social way and cool colors for quieter rooms that will be used in a more peaceful way.
Consider light in the room – light can also have an effect on the room and how it is perceived and natural light will reveal the true colors within the room. However, natural light such as fluorescent will add a distinct tone that is blue and this can ultimately affect the room.
Think about doing a color test- A color test can be a good way of finding out what the color really looks like and this can be done by testing out the colors beforehand on the board.
Add objects for more depth – Include furniture and other objects into the room to create more texture and depth.
Take a moment out from the room – it is always a good idea to leave the room and consider it when compared to the other rooms within the property.
Use a color wheel to analyze different colors – The color wheel can be helpful at analyzing different colors and how they work together.
Take into account monochromatic schemes as a guide – you can consider dramatic affects the different finishes of paint will have on walls and trims when you consider the small variations that can be achieved.
Take color from objects as inspiration – Objects that you plan on putting in the room may have colors that can inspire the color of the room.
Begin by thinking small – It can be a good idea to carry out the test run before applying the paint job. This can be done in a small room such as a bathroom or hallway.
Consider your surroundings – It can be a good idea to think about the regional area that you are based and the decorations that are used and then get inspiration from these for your room.
Five Star Painting has many years of experience in the interior painting of a property and understand that color schemes can make a huge difference. We are therefore focused on giving the customer an excellent experience and a brilliant finish when they request an interior painting service.
Interior House Painters

As soon as you decide that you need an interior painting service carried out on your property, do not hesitate to get in touch with Five Star Painting of Fort Worth. As house painters of Fort Worth, we are here to help you cover a wide range of different properties in color schemes that will suit your needs and have a wide range of experience in selecting colors for painting interiors to create excellent atmospheres.
If you are moving into a new property or are thinking of getting your current property repainted, we have all the skills and knowledge needed to help you with your project.
This is what we focus on when we carry out our internal painting service on your property:
A cleaning service – We carry out our service while keeping your home as clean as possible.
We are always punctual – We always let you know well in advance if we are late.
We keep within budget – We always give you a clear estimate of the work that we carry out and make sure that you understand this before we begin the work.
We are responsible- We always pay respect to the space that we working in and will be careful not to disturb any body who may be at the property.
We carry out a professional service – Our service is known for being of a five-star quality.
After we have completed the work we will then be on standby to help you with any further problems that you may have. Each job that we complete comes with a workmanship warranty that lasts two years so you can be safe in the knowledge that Fort Worth painters are on standby to help. Get in contact with Five Star Painting now of Fort Worth for more information.