Are you aware of the benefits interior painting brings to your home? Interior paint protects your moisture-prone rooms, like bathrooms, from water and mold damage. A professional interior paint job can also increase your home's value. In fact, it's one of the most cost-effective ways to do so! At Five Star Painting of Montgomery County, we specialize in the stylish interior paint makeovers your home needs.
Why Is Interior Painting A Good Investment?
Interior painting is an amazing investment. Are you:
Improving your house for the market?
Eager to create a new, lively mood for you or your family?
Or simply need to update your rooms' 10-year-old paint jobs?
No matter your reasoning, our local interior painters can suit your needs!
Check out our testimonials page to see why customers love our painting services. If you're ready for your free estimate, you can book yours by calling or reaching out to us online.
Our painting services cover every room in the house, including:
Living Rooms
Hallways
Dining Rooms
Kitchens
Garages
Pantries
Closets
Bathrooms
Basements
Not sure what you want? That's fine too. Our Rockville interior painters can help you envision the perfect paint job. Of course, this is only a small sampling of the services we offer.
Give Five Star Painting of Montgomery County a call today and we'll work with you to create a marvelous new color scheme for your home.
Should We Have Professional Painters Handle Our Projects?
If you want to be left with a high-quality and long-lasting paint job, you should hire the pros.
Our Pros Don't Cut Corners Around Preparation
First, DIY interior paint jobs fail due to a lack of preparation and paint application. Want to avoid those dreaded "missed spots", uneven lines, and paint that won't last? Below are a few ways interior paint jobs can fail:
Neglecting to remove bubbled and chipped paint,
Forgetting surface preparation,
Skipping the painter's tape, and,
Painting incorrectly.
Our professional interior painters won't cut any corners!
Our Pros Use High-quality Paints
Second, professional painters are also very well aware of the type of paints your rooms will need. Using low-quality paint is a sure way you'll need to have your rooms painted much sooner rather than later.
Low-quality paints:
Won't provide as much coverage,
Won't be as durable, and,
You'll need more paint because low-quality paint doesn't contain superior pigments.
At Five Star Painting of Montgomery County, we only use high-quality, premium paint!
Our Pros Save You From Future Hassles
We get it, though. You might have envisioned tackling your living room project on one Saturday. Trying to do so could very well result in cutting corners just to get it done. Save yourself the hassle by having your rooms professionally painted!
From Touch-Ups to Multiple Rooms, We've Got You Covered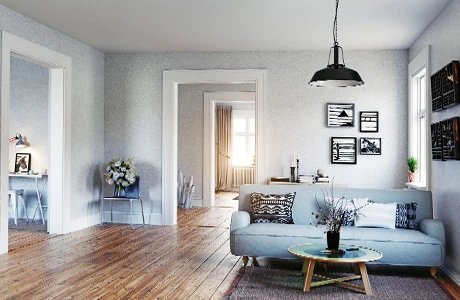 There's no job too small or too big for Five Star Painting of Montgomery County. No matter your project's scale, we're committed to delivering a superior paint job. We always strive to finish jobs as quickly as possible without compromising quality.
Not to mention, we leave all workspaces free from drips, debris, and other signs of a sloppy paint job. In the end, our interior residential painters will help transform your space. We'll make it more professional, inviting, and well-protected.
On-Time and On-Budget
Our interior house painters offer flexible scheduling! We can work on your projects when it's convenient for you. You can also rest assured that your interior projects will be completed on time.
We also work to thoroughly clean our workspace at the end of each day. The way we see it, the less we disrupt your home, the better we're doing our job. What's most important is that you're satisfied with the finished product.
Call us to book your free estimate for our interior painting services today. You can also reach out to us online!