Appropriate for Many Kinds of Cabinets
What if your cabinets have flaws? We can discuss these issues with you during the consultation. We're able to offer carpentry services to the Murfreesboro area to correct imperfections.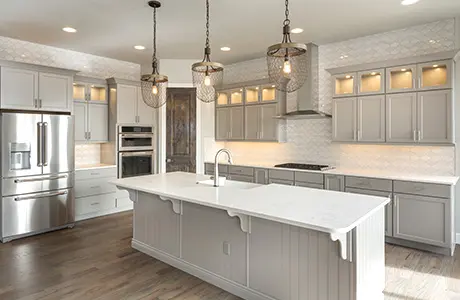 The experienced painting contractors we work with prep the cabinets first. This prep includes hand-washing, scraping and sanding can hide most minor issues. We're able to do this with many different types of cabinets, including:
Tall cabinets
Wall cabinets
Base cabinets
Framed cabinets
Frameless cabinets
Give us a call or fill out this brief form to schedule your free estimate. Our cabinet painting services in Murfreesboro, TN are customer-focused and quality-driven!
More Than Just Kitchen Cabinets
Cabinets are such an integral aspect of most kitchens. Cabinet refinishing in those rooms is a popular home improvement project. However, kitchens are not the only rooms where we can prep and finish cabinets. We can also resurface them in:
Garages
Bedrooms
Bathrooms
Game rooms
Home offices
Home theaters
Not Just Cabinets Can Get a New Life
The type of resurfacing that we perform is not just limited to cabinet frames, doors and drawers. There are many different surfaces found in homes where these techniques are appropriate. These include:
Chests
Bookshelves
Closet storage
Kitchen islands
Built-in shelving
Looking to see what our clients are saying about our cabinet painting services? View our Murfreesboro Testimonials today to learn more!
Our team provides in-home consultations at no cost and without obligation. Contact our Cabinet Painters in Murfreesboro, TN for a free estimate today!