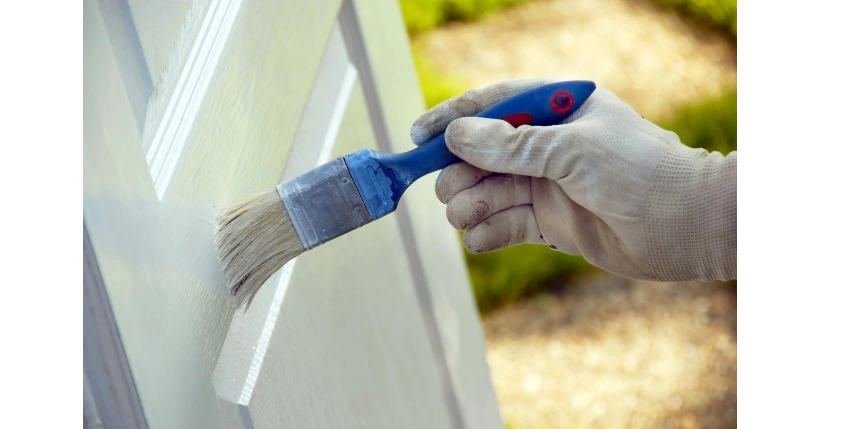 Due to our years of experience serving Brandon, Riverview, and the other nearby areas, our house painters have seen our fair share of interior projects. While we help with large makeovers of all kinds, we take great pride and joy in offering the consultation and painting services needed to add the finishing touch you've been looking for.
Bloggers, influencers, and professional interior designers have raved about the power of a well-picked-out and painted interior door or door frame. And for a good reason – they can easily add a pop of color to your space – great if you want to ditch an accent wall and opt in for something a bit more unique.
There Are Many Benefits to Painting Your Interior Doors
Aside from adding virtually any color to your space to make it uniquely yours, coating your interior door with a new coat of paint – regardless of which door – will benefit your property in more ways than one.
Interior door painting can:
Freshen Up Any Space
By simply painting any door throughout your house, whether it's leading into your bedroom, kitchen, or at the end of a hallway, you can instantly give your space a refreshed and new look that you'll be able to feel for quite some time.
When you choose to freshen up your interior paint every once in a while, even if it's just your door, you'll feel the difference in the amount of joy your space brings you! Color studies have shown time and time again that choosing certain colors (and colors you love) can positively affect your mental health.
Upgrade Your Hallway
If you're looking to add interest to your hallway besides adding a billion photos, consider playing around with the colors you use on the doors. Freshen up the walls with neutral colors (beige, white, cream) and paint the doors darker (navy blue, forest green, iron core) to make your hallway appear larger.
Extend the Lifespan of Your Door
If you've noticed that your paint is starting to peel or looking dull, it may be time to give your door a new coat of paint! The best door painting processes and services will include sanding down the door and repairing any scratches, chips, and dents in the wood, thus extending the lifespan of your door!
Provide a Chance to Upgrade Your Door's Hardware
Whether it's time to swap your decade-old doorknob with something more aesthetically pleasing or less scratched up, painting your door is a nifty excuse to finally replace your door's hardware. From hinges and knobs to locks and locksets, door hardware can give new paint and finishes a run for their money.
Help You Start Your Interior Painting Projects
When you need a quick and inexpensive way to change your space's look, painting your interior doors is a great option, and so is playing around with the colors of your home's doorframes! Even if your doors are painted now, you can build the rest of your home's interior painting around the door's color.
What's the Best Color to Paint Your Door?
If you have decided to paint your home's interior doors, you will have an excellent opportunity to add a personal touch to the doors with a special color that reflects your personality and taste. Any paint color will do for interiors, as long as it helps you achieve your final vision – and comes in a gloss or semi-gloss finish.
Some of the most common recommended colors for interior door painting include:
White
Red
Mint
Blue
Pink
Black
Yellow
Pastel colors
Interior Door Painting Trends to Try
As interior door painting continues to grow in popularity, there are a few emerging trends you may want to consider doing for your space:
Dual Tone – Can't pick between two colors? Why not both? Painting each side of the door a different color is a trend that can help you get the best of both worlds!
Accent Colors – Even if you choose a white or beige door, you can have fun decorating the surrounding area, including trim and décor, with bursts of color.
If you want to try either of these trends or anything else that has recently landed on your social media feed, turn to Five Star Painting of Brandon and Riverview! We're here to make any painting project you're dreaming of come to life through expert color consultation and experienced painting contractors.
Skip DIY & Hire Professional Door Painters
Save yourself the time, hassle, cost, and risk of do-it-yourself home painting and turn to a professional team of painters for help. Some benefits of hiring Florida painters for your next residential painting project include:
Well-prepped surfaces
Avoid streaks and other DIY mistakes
Limit the need for touch-ups later on
Ensure door is properly removed/reattached
Comprehensive services for a full interior project
Whether you're just beginning to plan your home's door refresh or already have the color scheme for your interior picked out, Five Star Painting of Brandon and Riverview is here to answer any questions regarding your door painting project and get you started on a beautifully painted door today!
Reach out to Five Star Painting of Brandon and Riverview today to request your door painting services!